The acts of violence against people in African-American and Black communities have added to the already overwhelming stress the country is facing amid the COVID-19 pandemic.
The Counseling Center recognizes the pain, fear, anger, and anxiety you may be feeling right now.
We also recognize the particular impact these events have on our students and community members in the African-American community, black community, and for other persons of color. Know that you are not alone during this time.
---
Resources for Black Students
Community Healing Project– This organization works to mobilize Black people, heal racial trauma, obtain freedom from toxic stereotypes, and reclaim dignity and humanity. It is the leading global, grassroots movement to help overcome the lies of white superiority and black inferiority.
National Child Traumatic Stress Network: Taking Care of Yourself – There are several ways you can find balance, be aware of your needs, and make connections. This list may help you decide which self-care strategies will work for you during this time.
Self-Care Tips For Black People Who Are Struggling With This Very Painful Week (Vice)– If images of Black suffering have left you feeling sad and angry and overwhelmed, this article discusses  some things you might do to get a tiny bit of relief.
Boston University Racial Trauma Toolkit -In this era of having witnessed multiple police killings of African American boys and men and girls and women either directly or vicariously through media accounts, communities of Color may experience post trauma symptoms. This toolkit provides ways to manage these symptoms.
NYU The Trauma of Racism-This report is a summary of select research on the blocked opportunities and oppressive burden that young men of color experience. The report highlights policy and programmatic interventions that could provide action steps by our government leaders, policy makers, provider organizations, and communities.
The Steve Fund– This organization is dedicated to improving the mental health of students of color. This website provides resources, programs, and services that support this mission.
Black Emotional & Mental Health Collective– This organization works to remove the barriers that Black people experience by providing resources for education, training, advocacy and the creative arts. 
Black Girl Smile– This organization encourages positive mental health education, geared towards young African American females by providing programs, resources, and support.
Therapy For Black Girls– This is an online space dedicated to encouraging the mental wellness of Black women and girls.
Sunshine Behavioral Health – This resources details mental health issues facing the black community, how racism causes to mental health problems, and offers resources.
Mental Health Issues Facing the Black Community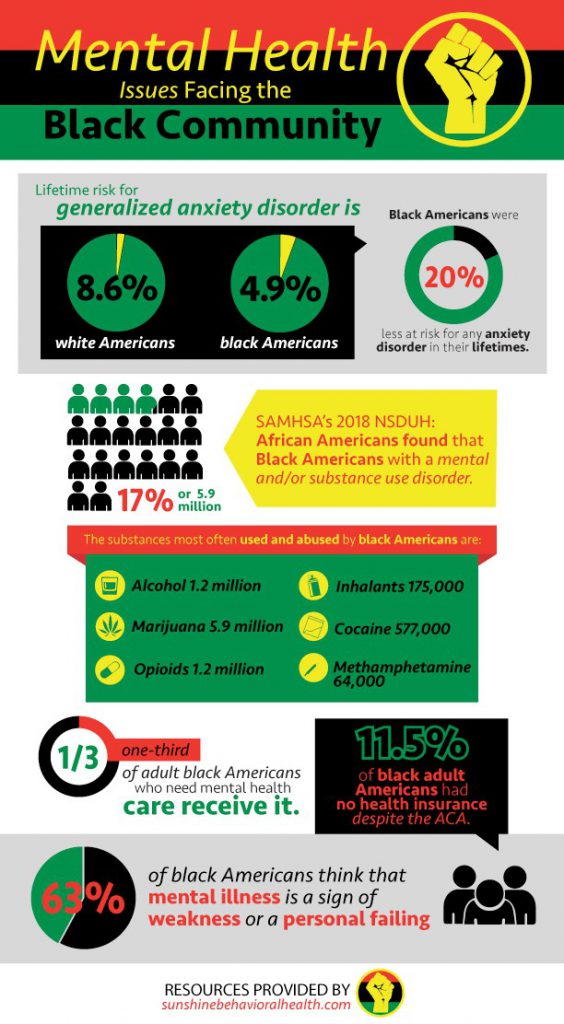 Resources for Allies
Online Resources
Relevant Podcasts