The Counseling Center staff remain actively engaged in supporting the mental health needs of K students during distance learning. Students experiencing mental health symptoms are encouraged to access professional support as follows:
TELETHERAPY
Students experiencing mental health symptoms may have access to video conference sessions with a therapist, if they are in the state of Michigan. Counseling Center hours are M-F 8-5. Please email Dr. Ferguson at kenlana.ferguson@kzoo.edu to schedule a teletherapy appointment. There are no session limits during fall quarter.
REFERRALS
Students who are out of state are encouraged to connect with local mental health resources, as the current law does not allow our therapists to provide ongoing teletherapy outside of their state of licensure. However, all students have access to brief, temporary consultative support via videoconference or phone to assess mental health needs, provide recommendations, help transition to a local provider or to access emergency mental health services. Please contact your previous therapist via email or email Dr. Ferguson at kenlana.ferguson@kzoo.edu to schedule a consultation.
EMERGENCY MENTAL HEALTH SUPPORT (24/7)
Students experiencing a mental health emergency should contact one of the following crisis resources immediately:
Campus Safety: 7321 (to be connected with an on-call crisis counselor)
Gryphon Place: 211 or 269.381.HELP (Kalamazoo)
National Suicide Hotline: 1.800.273.8255
Steve Fund Crisis Text Line (for young people of color): Text STEVE to 741741
Call 911
Examples of mental health crises include (but are not limited to) suicidal urges, disconnection from reality, problematic substance misuse, significantly impaired functioning, or a traumatic experience (ex. assault or major loss).
SELF HELP RESOURCES
The Counseling Center has collected a variety of free online self-help resources. Using an app (such as Headspace or Sanvello) is a great way to create a customized package of coping skills and to set up a reminder system for implementation. Tools for coping with anxiety and depression are located on The Counseling Center home page under "Instant Help." In addition, below are ideas related specifically to managing anxiety related to the pandemic.
How To Take Care of Your Mental Health When You Have Been Exposed to COVID-19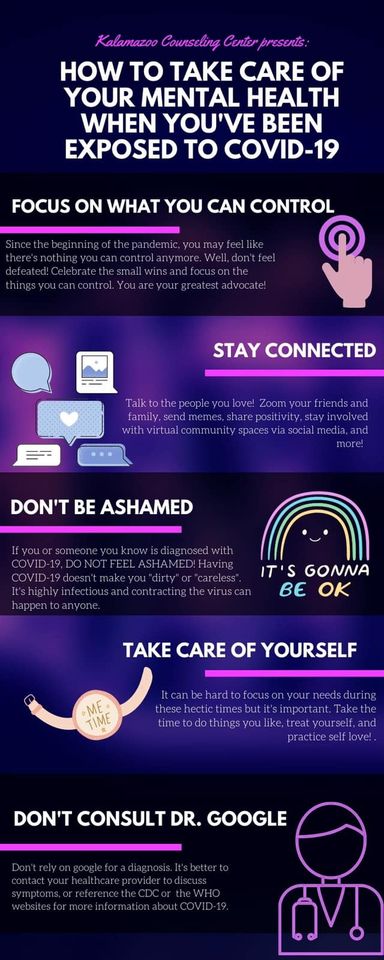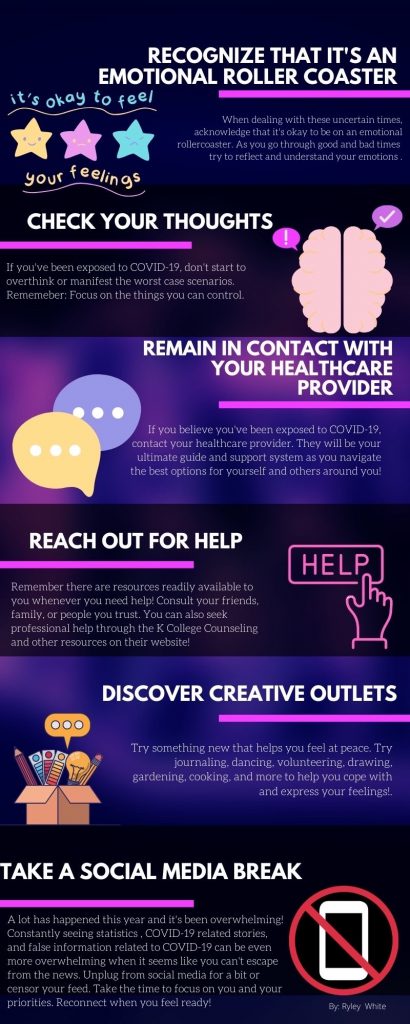 Thank you for working with us to stay physically and mentally healthy during this COVID-19 season! Please let us know if you have any questions or concerns that arise as we navigate these unchartered waters together. We are here for you!
K College Counseling Center Staff